6 Best Project Management and CRM Tools 2019 – The Real Comparison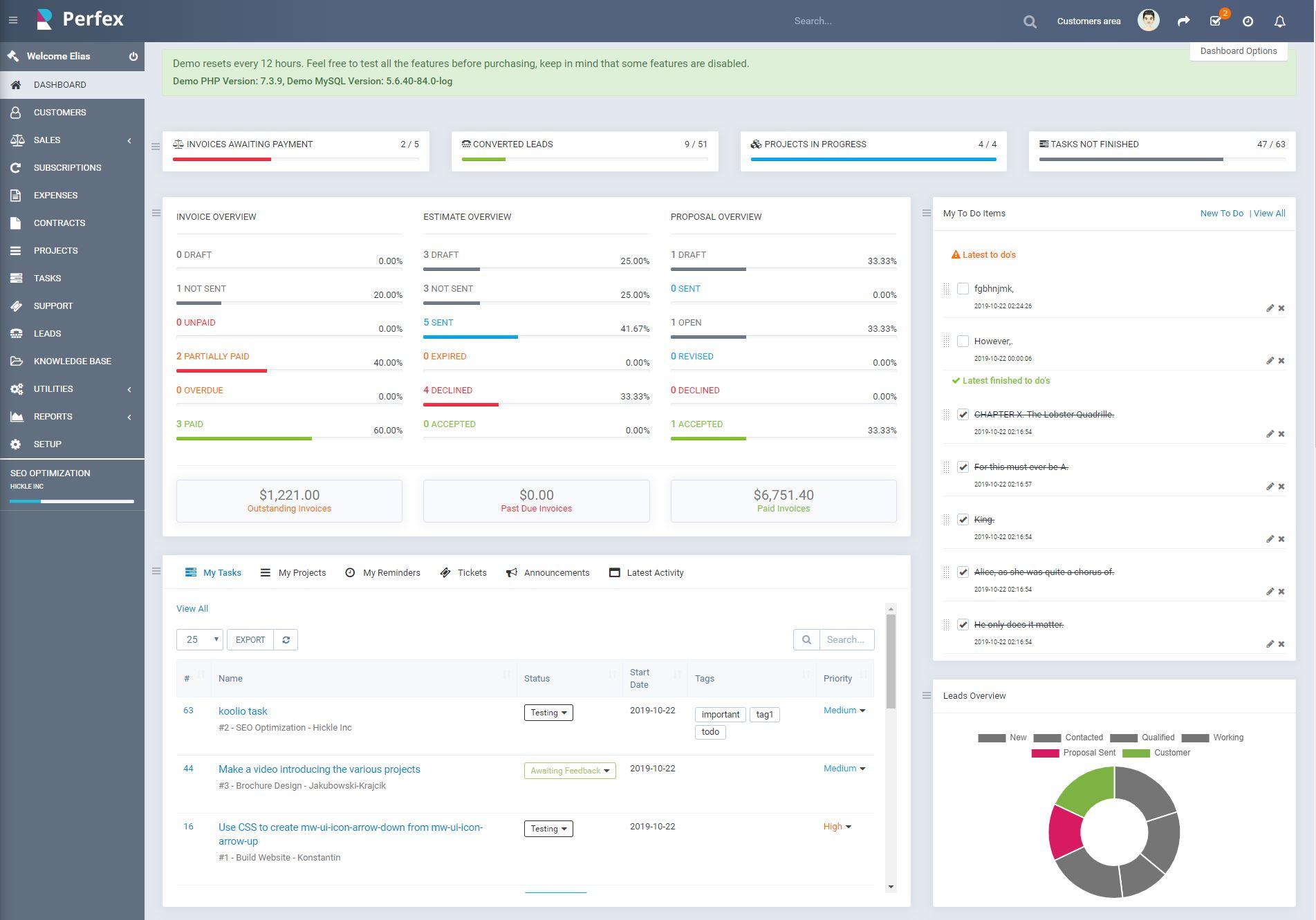 I don't know how but recently I found a CRM software test and felt triggered to search for the best one. Wow. The box of Pandora was opened. Hell was unleashed. There are thousands of CRM tools that look and feel good. But which one is the best? As usual this is subject to ones own perception and hard to tell. Prices vary from $50 once to hundreds per month. Also functionality differs a lot too, but there are quite a few standalone systems out there on Envato that look very promising for a fixed one-time fee. A good way to start I thought and here we are. I took a few days off and checked all of them out thoroughly and test the available demos.
For my personal organization I needed to write down to understand and remember which one convinces me the most. Here I am. And I'l make it short. I go with Perfex – a rather old but solid and well evolved system – but I feel like Workice will be the better solution really soon due to its API and openness. Perfex in comparison is a rather closed box though it supports modules. A major problem for most systems is – strangely – offering a two way sync of the calendar entries. There are just a few that do this (Workice, Freelancer Cockpit). And for me it still newer really worked smoothly – at least not with the demos available. Also keep an eye on the search functionality. Many systems do not even have a global search (Rise) or just search by tags (Workice).
Envato is full of semi great CRM tools
These are my results. Actually most of the CRM plugins on Envato have the same functionality and the same core framework (Laravel). I don't know why though. But still there are many differences. But all have one thing in common. They offer way more functionality than those pay per month suites that I have found. They are more adaptable since you can install them on your own server, and they all look and feel good. So lets get hands on the differences. This is the list that I scoured through.
Perfex CRM
Perfex is great, not perfect. It is the oldest system in the list and has a huge amount of sales. But it has its flaws: For me those are totally about the system being isolated. You cannot integrate your calendar externally, you cannot integrate zapier for automation, you cannot use mobile notifications. There is just support for sms. There is a module system though but it does not help too much. But at least it gives developers some kind of flexibility if they are willing to get into this.
Nonetheless Perfex offers a wide range of functions and services. I feel like it is still my number one choice. At least for the moment. Because I am not too fond of subscriptions and finally want to track my projects properly.
RISE - Ultimate Project Manager
Rise was one of the first CRM systems that I have found on Envato. It features most of the functions I need. Has good and useful quicklinks throughout the system, features a nice interface and a fully customizable dashboard. One great thing I found is the feature rich intercom Chat that also acts as a notification system. You have a personal todo list and an idea stream. A nice tough is push notifications for web via pusher.com though this service unfortunately does not support mobile notifications. Being first released in 2016 RISE is a rather old system in comparison to the others.
Update 12/2019: I dived into even more testing and the overall look and feel is by far the best. Upgrading points from 70 to 80. Will continue finding flaws and features.
WORKSUITE - CRM and Project Management
Worksuite was first released in 2017 and has a solid history of updates, it even features a SAAS companion (available seperately). Worksuite is a CRM that features nice and seamless looks and of course all of the overall functionality that you would expect. Though you cannot select it, it supports German and though the calendar has no two way sync, the notification mails you receive have an ics event file attached. The backend though lacks links. For instance, you cannot edit an invoice from the project/ clients invoice views, you need to go to the invoice section and search there. One of the best features is the onesignal.com support which enables push notifications on your mobile device!
Update 12/2019: After more testing I find it very annoying that creation of projects and tasks always require dates. This slows everything down a lot. Degrading points from 70 to 60
Workice - The Ultimate Freelancer CRM
Workice was the second tool that I thought that it is the best available. Nonetheless Workice is rather convincing just by the range of third party services supported. from aircall, to onesignal and sms up until whatsapp. That is a lot. The backend is not the slickest and the fonts are barely readable but it provides a lot of functionality. The system supports german and the calendar seems to be exportable. Only reason why this is not in top position is the lack of a useful search and some minor bugs. Currently search only goes by tags which is useless and you will have a hard time getting to where you want. The system itself is very promising though. And besides the not so cool product image I think Workice has a bright future ahead as it is rather new and was first released in may 2019. Will check back later.
Update 11/2019: Bought it will test this tool thoroughly.
Update 12/2019: Disappointed. Will degrade points from 80 to 60. This thing is too damn buggy.
Freelance Cockpit 3 - Project Management and CRM
Freelance Cockpit 3 feels like the early version of some of the newer Lavarel based systems. First released in 2013 it is rather old and therefore has many sales. The system itself is functional but not too fancy. There is nothing really special about Freelance Cockpit 3 that stands out. My overall impression is that there are many cross links missing. You often have to go where you want via the menu. That you cannot sort items in invoices and estimates and the lack of Kanban views throughout the system makes this an easy no.
TITAN - Project Management System
Titan is a rather solid CRM system without any fancy functionality. I still don't like the overall design since everything looks like it's straight from the 90s. Actually I don't have too much to say about it. It is in this list cause it sports all the functionality that is needed in most cases. But there really is nothing special to Titan.
The rest of the pack
OK, now you see I have really done some testing. I know this article is rather a protocol than an article but I have a point here: I just wanted to document all my thoughts. So what is my favorite?
It is Perfex for now. At first, it was Rise, then Workice and later all that testing and digging it is Perfex. One of the major reasons simply is the documentation they provide. Also, it offers the most flexibility cause it supports hooks and actions just as you are used to from WordPress. But it has still a couple of major flaws that prevent me from buying: The calendar is a closed capsule and ther eis no mobile push system or an API that you can use for this cause. Perfex works but it is closed. Keep that in mind when thinking about bying. Nontheless it is cheap. What can you expect for 60$. Any other solution is way more expensive. And those tools easily cost you a 100$ per month (and still lack some of the functionality).
I will keep you updated when I finally bought something and got further insights 🙂
Update: I changed my mind and bought Workice. Showing calendar events in other apps such as Gmail or on my mobile was too important. The developers of the other tools should have a look at this ics script and finally implement this outwards sync functionality. It is ridiculous to not have this in a CRM.